BaF2 coverslips
The author : time : 2019-10-19 Click on the number of times :
383
BaF2 crystal coverslips for Raman Spectrum
Barium Fluoride , its transmission range is 0.2 - 11 μm. Polishing is quicker than calcium fluoride using diamond pastes but is less easy to obtain free of sleeks. Barium fluoride is less resistant to attack by water than Calcium Fluoride. Pronounced water attack occurs at 500 ℃ , but the material can be used to 800 ℃ in a dry environment. The material is relatively hard but is highly sensitive to thermal shock.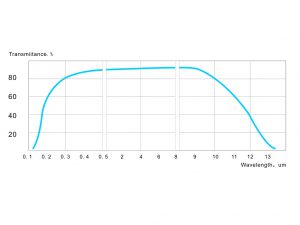 Standard grade BaF2 coverslide in stock


 


 






| | | | |
| --- | --- | --- | --- |
| Part No. | Dimension mm | Unti price for(1-10pcs) | Deliverytime |
| BFMS1003 | 10×10×0.35-0.40 | USD40.00 | in stock |
| BFMS1603 | 16×16×0.35-0.40 | USD50.00 | in stock |
| BFMS1903 | 19×19×0.35-0.40 | USD60.00 | in stock |
| BFMS2203 | 22×22×0.35-0.40 | USD70.00 | in stock |
| BFMS2503 | 25×25×0.35-0.40 | USD100.00 | in stock |
| BFMS2505 | 25×25×0.50 | USD80.00 | in stock |
| BFMS2510 | 25×25×1.0 | USD90.00 | in stock |
| BFMS5510 | 25×50×1.0 | USD150.00 | in stock |
| BFMS7610 | 76.2×25.4×1.0 | USD200.00 | in stock |
| | | | |


 



Note: Other sizes and thickness are available upon request.Large discount for batch quantity , please contact sales@laseroptex for quotation


 

BaF2 Cover Slides

BaF2 Cover Slips are ultra thin polished BaF2 crystal substrates used for their absolute IR transparency for Raman Spectrum ,medical, scientific and research applications. When viewing the surface a BaF2 cover slip can slow evaporation and compress the most viewed object to protect the microscope lens.

 


| | | | | |
| --- | --- | --- | --- | --- |
| Part No. | Size | thickness | Unit price for1-10pcs | Delivery time |
| BFCSC1003 | 10mm | 0.35mm | USD60 | in stock |
| BFCSC1010 | 10 mm | 1.0mm | USD50 | in stock |
| BFCSC1205 | 12.5mm | 0.35mm | USD70 | in stock |
| BFCSC1210 | 12.5mm | 1.0mm | USD50 | in stock |
| BFCSC1505 | 15.0mm | 0.35mm | USD75 | in stock |
| BFCSC1510 | 15.0mm | 1.0mm | USD70 | in stock |
| BFCSC2005 | 20 mm | 0.35mm | USD90 | in stock |
| BFCSC2010 | 20 mm | 1.0mm | USD80 | in stock |
| BFCSC2501 | 25 mm | 0.35mm | USD100 | in stock |
| BFCSC2510 | 25 mm | 1.0mm | USD120 | in stock |
| BFCSC3010 | 30mm | 1.0mm | USD120 | in stock |
| BFCSC3310 | 33mm | 1.0mm | USD120 | in stock |
| | | | | |
| | | | | |


 

Note: Other sizes and thickness are available upon request.

Large discount for batch quantity , please contact sales@laseroptex for quotation

We can accept the credit payment by paypal for small order. The min order must above USD200

 



Custom size BaF2 window and lenses are available on request
Large discount for batch quantity , please contact sales@laseroptex for quotation
Reproduced please specify:Laser Optex Inc. » BaF2 coverslips