Dye Laser Cell
The author : time : 2016-06-14 Click on the number of times :
194
Dye Laser Cells
Dye laser cells are manufactured with extreme surface flatness extending to the edges of the cell. Flatness is insured via interferometer.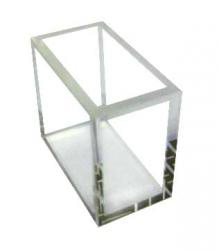 1.
Dye laser flow through cell
Four windows polished
Both ends open
Wall thickness is 2mm
Originally made for the Quanta Ray dye laser  
2.
Standard 40mm dye laser cell
Dye laser cell 40mm
Four windows polished 
Material : UV grade quartz
(190-2,500nm) 
Outer
Inner
 
Light path
Outer

Length
Width
Height
Length
Width
Capabilty
Price
20
26
46
40
20
40
24
 
40
26
46
40
20
40
24
 
Custom Dye Laser Cell are available on enquiry.
More
 discount for batch quantity , please contact
sales@laseroptex
for quotation
Reproduced please specify:Laser Optex Inc. » Dye Laser Cell