THz vacuum viewport
The author : admin time : 2019-10-12 Click on the number of times :
421
TTHz vacuum viewport
for your THz application
Laser Optex Inc.
- offer a range of competitively priced
THz window
UHV viewports
,with Conflat flange including a variety of Broadband coatings to enhance performance.
Laser Optex Inc
. uses advanced techniques for control of special and critical processes, including 100 percent helium leak testing.
Windows Materials
include:
THz grade Quartz , Sapphire , Silicon.
Specification
Specifications
Flange
304ss/316L
Adapter
304
Lens
THz grade Quartz , Silicon.
Lens quaity
Surface quality 60-40 after coating

Flatness: 1/2 λat 633nm per inch
Vacuum Range UHV / HV
1x10-11 Torr / 1x10-10 Torr
Temperature Range1
-100ºC to 150ºC
Coating
uncoated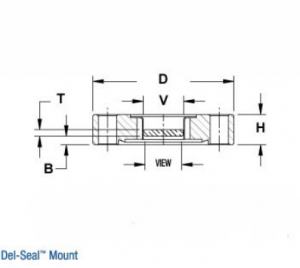 Part No.
Flange size

D inch
windows

material
View dia.

V
Thk

T mm
Thk flange

H mm
Price

USD
Lead time
THUHV16
CF16 1.33
Quartz
12
2
15
300
stock
THUHV 25
CF25
Quartz
20
2.5
15
450
stock
THUHV 35
CF35 2.75
Quartz
35
3.5
16
600
stock
THUHV 50
CF50
Quartz
50
5
18
800
stock
THUHV 63
CF63
Quartz
63
7
20
1500
stock
THUHV 100
CF100
Quartz
100
8
20
2200
stock
THUHV 150
CF150
Silicon
136
10
25
3500
6 weeks
B: We can design custom THz viewport by your requirement
More
discount for batch quantity , please contact
sales@laseroptex
for quotation
Reproduced please specify:Laser Optex Inc. » THz vacuum viewport