Bare glass absorption Tubes
The author : time : 2016-06-04 Click on the number of times :
196
bare absorption tubes
Laser Optex offers all kinds of bare absorption tubes.  These tubes are useful for free space optical applications, such as those that require wavelengths where optical fiber is not applicable.  We have many gases available and can provide mixtures as well.  For example, our customers often request a backfill of nitrogen to mimic atmospheric conditions.
Tubes are made custom to order so several configurations are possible.  When requesting an absorption tube, you may refer to our handy 
Absorption Tube Info Sheet
.  Of course, please contact us with any questions.  We'd be eager to hear about your application!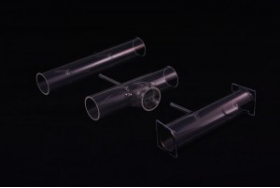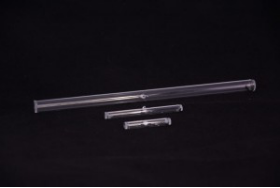 Below you will find a drawing and general specifications and configurations for our glass tubes.  For our copper tubes (useful for caustic gases such as HF) 
Absorption Tube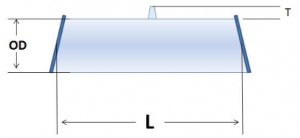 Sketch of an absorption tube. Note: this drawing is not to scale.
Specifications:
Length: 2cm < L < 20cm (2cm, 5cm, 10cm standard)
Outer Diameter (OD): 12mm and 25mm standard; 5mm and 9mm also available
Tipoff: T < 10mm
Window Tilt: 3 degrees
Window Wedge: 0.3 degrees
Window material:  B270 Crown Glass (<2.6 microns); MgF2 (<8 microns); ZnSe (<14 microns)
Window Material
< 2.6 microns:
  We supply wedged B270 Crown glass windows AR-coated for 600, 1330, 1550 or 1700nm.  AR-coatings are provided at no extra charge. 
< 8 microns:  
We supply wedged MgF2 windows.  These provide excellent transmission and are lower cost than our ZnSe windows.  They are available for our 12mm and 25mm outer diameter tubing 
< 14 microns:
  For applications past 8 microns, we use ZnSe windows.  
Custom 
bare absorption tubes
 are available on enquiry.
More
 discount for batch quantity , please contact
sales@laseroptex
for quotation
Reproduced please specify:Laser Optex Inc. » Bare glass absorption Tubes