Laser window
The author : time : 2020-02-24 Click on the number of times :
42
Laser window    custom large size to 400mm
Laser windows are precision plano parallel polished surfaces. Polishingthe surfaces to highprecision finish with very find abrasives to minimise any surface microfracture. Polishing the surfaces very slowly for greater periodsof time than standard optical polishing. This is essential for laser substrates fabrication to achieve high flatness, parallelism and surface finish.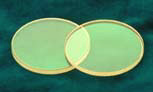 | | |
| --- | --- |
| Laser Windows Specification | Laser Window Coatings |
| ·  Parallelism: <5 arc seconds | · Single & Broadband AR Coatings |
| ·  Surface Quality: to 10/5 | · R < 0.5% for V coating |
| ·  Flatness: to λ/10 at 633nm | · R < 0.1% for High-power laser coating |
Laser Window Materials
Materials for laser windows generally include UV Fused Silica, and N-BK7 optical glass. UV Fused Silica grade for High-power lasers developed for maximum transmission and prolonged life.
Standard
N-BK7 Laser Windows
Custom size and coating are available on request.
UV Fused silica Laser windows for high-power laser
Custom size and coating are available on request.
Candela Replacement Windows
for
MGL
, MGY, and GLP in Business
Laser Optex produce the
New premium grade
Window Kits

Material: 
Fused silica
Coating: 
High Damage threshold AR coating
For Cbeam For GentleLASE For GentleMax For GentleYAG For Smoothbeam For Vbeam
Window Kits are designed for specific laser systems and should never be used on laser systems other than those specified. For additional Information consult your Candela Laser Operator's Manual.
New Premium Grade Windows: GentleLASE Windows
Price: USD100 for 25pcs/one package, port : USA
Payment term: T/T , Credit card
Delivery In Stock - Ready for Immediate Delivery
Large quantity can make more discount ! 
Meanwhile, we also can provide 
Super premium grade
Window Kits
Material: 
Sapphire crystal
Coating: 
High Damage threshold AR coating
For GentleLASE For GentleYAG  
Reproduced please specify:Laser Optex Inc. » Laser window